Minecraft: How to Make a Pickaxe
In Minecraft, the Pickaxe is a very basic tool you're going to need essentially throughout the entire game. There are various different qualities of pickaxes, but they are all basically made the same way. The resources you can make a pickaxe out of in order of increasing quality are: gold, wood, stone, iron, diamond.
The first pickaxe you'll have access to will be a Wooden Pickaxe, since you can gather wood without the use of any tools. Once you create your Wooden Pickaxe, you'll probably want to mine some stone to make a Stone Pickaxe, which will last a little over twice as long as wood.
To make your Wooden Pickaxe, you'll need a Crafting Table, two Sticks, and three Wooden Planks. Arrange the items on the Crafting Table in the pattern shown below to make your pickaxe.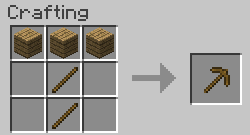 If you haven't noticed already, most items are made using certain patterns, most of which resemble the shape of the object you're making. Other Pickaxes are made in the same fashion, just with different materials on the top row. For example, to make a Stone Pickaxe, replace the top row of Wooden Planks with a row of Cobblestone, which you get from mining regular Stone cubes.