World of Warcraft: Auction House Bot
Ever wished you could be on the Auction House at the perfect moment every time someone posts something really cheap because they don't know any better? Ever wondered how those people snipe cheap auctions almost instantly? They're probably using an Auction House bot of some kind.
Now I know what you're thinking. Auction House bots must be super complex and can possibly get you banned right? Well, that's where you're wrong. Since the creation of the Remote Auction House tool, you can run an app that accesses the Auction House outside of WoW, and it's apparently perfectly legal.
That's where WoW Auto Auctions comes in. It's an app that uses your Remote Auction House (subscription to the Blizzard service required in order to purchase outside of the game, but only costs a few bucks per month) to purchase specific items for you at prices you set. For example, if you know that you can sell Flask of the Draconic Mind for 175 gold regularly, and you want to take advantage of people selling them for 125 gold or less, then you can set that item in your list, and any auctions it finds at or below that price it will buy for you.
There is also a safety net. You can set a maximum amount for the bot to spend, so it's not spending all of your hard earned gold if you don't want it to. This limit is used per session, so once it reaches the limit, simply close and re-open the program for it to reset.
There is also an interesting feature called Baiting. Essentially, it will post something at price just above your set price in order to bait people into undercutting you so you can buy it at the price you want. This is risky on expensive items, but can be very handy for stackable items like ore, herbs, gems, etc.
As an example of a good bait technique, lets say you want to purchase some Obsidium Ore for 50 gold per stack, and it normally sells for 80 to 90 gold per stack. You put Obsidium Ore in your buy list and set it to 2.5 gold (50 gold for 20), and set Bait to yes. It will post an auction of one Obsidium Ore for 2.51 gold so that anyone who undercuts you will be purchased automatically. You can also set an option to not buy single item stacks, that way it will only purchase from people that undercut you with more than one item in a stack.
Here is a screenshot of the app in action, setting up an item in your buy list.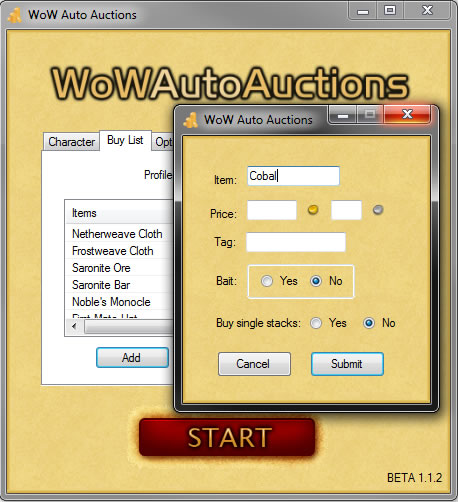 I'm not gonna lie, I love this app. I've been using it conservatively for a few weeks and I have not only found some great deals on flasks and gems to re-sell, but I've been able to bait people into selling ore really cheap that I can prospect into gems to sell for a nice profit. I see a lot of potential once my buy list grows as well and I get more daring. I'll post more here as I do.
They offer a free trial for a few days, so test it out and see for yourself. I'm certain you won't be disappointed when you start to see that gold roll in.