The Elder Scrolls V – Skyrim: Dragon Burial Site Locations
In The Elder Scrolls V: Skyrim for the PC, PS3, and Xbox 360, there are twenty two dragon burial sites scattered across the continent.
You'll have access to a map of the different burial site locations if you took it from Delphine's table at the beginning of the quest "A Blade in the Dark", where she has you meet her at a burial site to see if a dragon will be there. If you missed it, it should still be on the table at her inn in Riverwood, in the secret room in the Sleeping Giant Inn. Here is a screenshot of the map.
Dragon Burial Site Map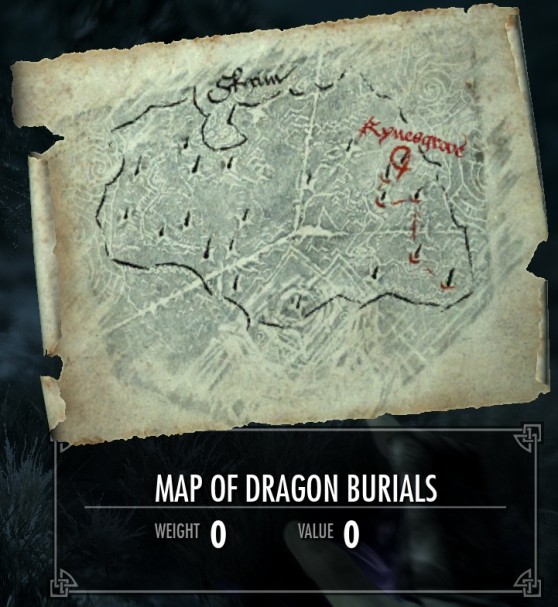 The map is a little vague, but it can help point you in the right direction.
During the quests with Delphine, she'll inform you that the dragons are being resurrected in some sort of order, and you can see by the map that she is correct.
You'll recognize a burial mound, because it will be a slightly raised mound, with a stone rim around it. They are fairly large, and stick out in the environment fairly easily.
Dragon Burial Site Locations
Here is a list of the locations to help you find the dragon burial sites, and the order that they are resurrected in. They don't open until certain points in the main quest, and not all dragons will stick to their burial site either.
Autumnshade Woods in The Rift – Opens during the "Bleak Falls Barrow" quest in Act I, you won't find a dragon here
Mzulft Foothills in Eastmarch – Opens during the "Dragon Rising" quest in Act I, you won't find a dragon here
Bonestrewn Crest in Eastmarch – Opens during the "Dragon Rising" quest in Act I, you won't find a dragon here
Witchmist Grove in Eastmarch – Opens during "The Way of the Voice" quest in Act I, you won't find a dragon here
Kynesgrove in Eastmarch – You visit this location during the Main Quest "A Blade in the Dark", witness the resurrection, and kill the resurrected dragon
Karth River Forest in Hjaalmarch – Opens during the "Diplomatic Immunity" quest in Act II, you won't find a dragon here
Robber's Gorge Bluffs in Hjaalmarch – Opens during the "Diplomatic Immunity" quest in Act II, you'll find a dragon here
Autumnwatch Woods in The Rift – Opens during the "Diplomatic Immunity" quest in Act II, you won't find a dragon here
Lost Tongue Pass in The Rift – Opens during the "Diplomatic Immunity" quest in Act II, you won't find a dragon here
Great Henge in Whiterun Hold – Opens during the "Diplomatic Immunity" quest in Act II, visit before the "Alduins Wall" quest in Act II to witness the resurrection, otherwise the dragon will stick around after that
Karthspire Bluffs in The Reach – Opens during the "Alduin's Wall" quest in Act II, you'll find a dragon here
Lone Mountain in Whiterun Hold – Opens during the "Alduin's Wall" quest in Act II, you'll find a dragon here
Bilegulch Ridge in Falkreath Hold – Opens during the "Alduin's Wall" quest in Act II, you won't find a dragon here
Evergreen Woods in Falkreath Hold – Opens during the "Alduin's Wall" quest in Act II, you'll find a dragon here
Bloodlet Peaks in Falkreath Hold – Opens during the "Alduin's Wall" quest in Act II, you won't find a dragon here
Rorikstead in Whiterun Hold – Opens during the "Alduin's Wall" quest in Act II, visit before the "Elder Knowledge" quest in Act II to witness the resurrection
Labyrinthian Peaks in Hjaalmarch – Opens during the "Elder Knowledge" quest in Act II, you won't find a dragon here
Sea Shore Foothills in The Pale – Opens during the "Elder Knowledge" quest in Act II, you'll find a dragon here
Shimmermist Hills in The Pale – Opens during the "Elder Knowledge" quest in Act II, you'll find a dragon here
Reachwater Pass in The Reach – Opens during the "Elder Knowledge" quest in Act II, you'll find a dragon here
Ragnvald Vale in The Reach – Opens during the "Elder Knowledge" quest in Act II, you'll find a dragon here
Yorgrim in The Pale – Opens during the "Elder Knowledge" quest in Act II, visit this location before the Alduin's Bane quest in Act II to witness the resurrection, otherwise the dragon will stick around