Plague Inc. – How to Beat Virus on Mega Brutal (Walkthrough)
Playing Virus on Mega Brutal isn't that different from playing Bacteria on Mega Brutal.
Mega Brutal adds several different mechanics, from random blood tests that detect your plague without any symptoms, to huge increases in ability costs the more people that are infected with your plague.
Let's get started shall we?
Here is the Gene setup:
Gene Setup for Mega Brutal Bacteria
DNA Gene – Metabolic Jump
Travel Gene – Aquacyte
Evolution Gene – Symptostasis
Mutation Gene – Genetic Mimic
Environment Gene – Extremophile
Mega Brutal Virus Strategy
The best way to run against this mechanic is very aggressively with symptoms, while trying to keep your severity as low as possible.
Starting country: China – I have been running with India a lot lately, but every time I tried India on this one, the minute Greenland got infected it would stop spreading immediately and I would end up losing.
Buy these symptoms first: Nausea, Coughing, Rash, Anaemia, Cysts
Next buy these transmissions: Water 1, Insect 1
Then buy these abilities: Cold 1, Drug Resistance 1
At this point your plague should be spreading throughout China pretty quickly since you have a high infectivity. Now is the time to ramp it up though. Once your plague starts spreading, you'll be gaining a lot of bonus points to spend from Metabolic Jump and having a lot of symptoms.
Buy these transmissions next: Water 2, Insect 2
Some more symptoms: Sneezing, Pneumonia, Sneezing, Sweating, Haemophilia, Abscesses, Hyper Sensitivity
Next buy these abilities: Cold 2, Genetic Hardening 1 and 2, Drug Resistance 2
Your plague will be spreading like wild fire at this point from your huge infectivity, giving you points extremely fast. You need to remember that the more people that are infected, the more all of your abilities are going to cost, which can be kind of frustrating at the end.
At this point, keep an eye on symptoms that mutate, and devolve any that are extremely lethal and / or severe, because you don't want countries shutting down their borders before they are infected.
Keep evolving symptoms like Diarrhea, Pulmonary Fibrosis, Skin Lesions. If the cure starts to build too quickly, throw in Paralysis and Coma. You can also purchase some Genetic Reshuffles as needed, but they might be really expensive by now.
Once all countries are infected and you get a decent population that's infected, throw in the Necrosis symptom to speed things up a bit.
Once everyone is infected, it's time to unleash Hell! Hit them with whatever points you have left, and once they start dying off heavily keep throwing it at them. Total Organ Failure, Internal Haemorrhaging, Dysentery, etc. The population will die extremely fast and..
Congrats, you win!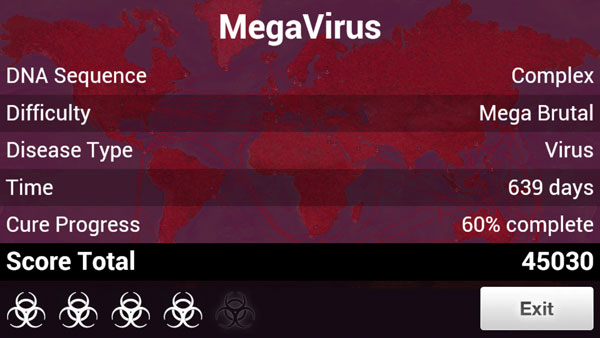 If you're having trouble or have suggestions or strategies of your own, leave me comments below and let me know.