Minecraft: How to Make a Glass Bottle
In Minecraft for the PC, you can make glass bottles to use for brewing potions in the brewing stand.
To make a glass bottle, you need to place three pieces of glass into the crafting table like shown in the picture below.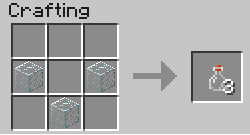 Each combination will yield three glass bottles. You can fill each bottle with any water source to get a water bottle.
Maybe next they'll make miniature ships for the glass bottles, or little messages to float to your friends.. awesome!