Minecraft: How to Make a Brewing Stand
In Minecraft for the PC, you can make a brewing stand for use in brewing potions.
Too bad you can't brew beer, but we can't expect everything I suppose.
To make a brewing stand, you'll need to combine one blaze rod with three pieces of cobblestone in the crafting table like in the picture below.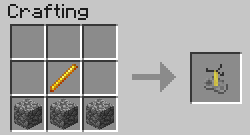 The blaze rod can't be created, and can only be looted from a Blaze, which are found near Nether Fortresses.