How to Respec (Reset Your Skills) in The Elder Scrolls Online (ESO)
In The Elder Scrolls Online, in order to reset your skill tree (aka respec) you need to visit a Shrine of Rededication, and pay crap tons of gold for the service as well.
The more experience you are (the more skill points you have spent) the more it costs as well. The cost to reset your skills is 100g per point spent. Note that any current unspent points do not count toward this number.
As you can imagine, this can get extremely expensive, and I wouldn't suggest resetting as often as you did in say, World of Warcraft.
Later in your ESO career, there will be plenty of points to go around which means you'll be able to have all sorts of different build possibilities without ever having to respec, unless you purchased some skills you know you're never going to use again. Even then it shouldn't be absolutely necessary unless you're really short on points and you have a lot to allocate elsewhere.
Either way, to find a Rededication Shrine, you need to go to the main city in the third tier zone in your faction.
For Aldmeri Domain, this is the city of Elden Root in Grahtwood.
For Daggerfall Covenant, this is the city of Wayrest in Stormhaven.
For Ebonheart Pact, this is the city of Mournhold in Deshaan.
The shrines will show up as Point of Interest on your map like in the pic below.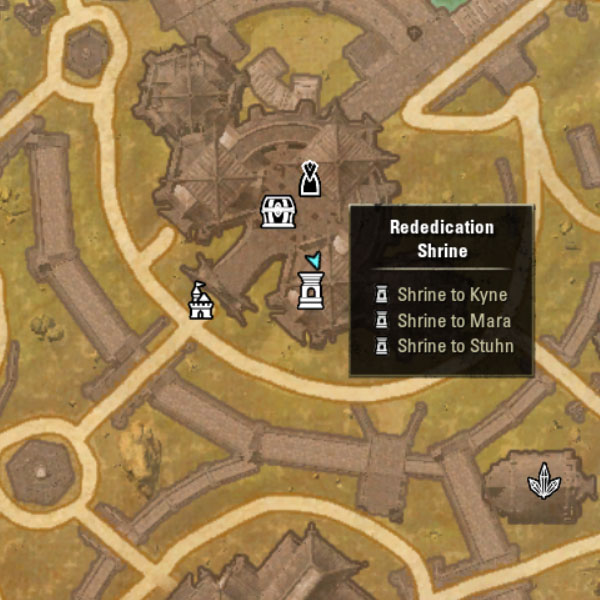 There are three different Rededication Shrines here. One allows you to get Mara'd to another character, one allows you to reset your Attribute Points, and the last is the one that allows you to reset your Skill Points.
Make sure you're paying attention here, you don't want to spend money on redistributing your Attribute Points if you didn't mean to.
Visit the shrine, pay to pray your sins away, and POW!! You've got your points back to spend.
Note that you do keep the levels you attained in any of your skills, so no worries there.