GTA Online – How to Call Merryweather
In GTA 5 and GTA Online, Merryweather is the private military company that likes to lend its "services" to the government (and the player) for a hefty fee.
In GTA Online, you can call upon Merryweather for several different services, like hiring a group of mercenaries to gun down a player, or call in a helicopter for pickup.
You can't contact Merryweather until you unlock the first accessible item though, which is the ammo drop at level 13.
Once you reach level 13, you'll receive a call from Merryweather telling you that you now have access to their services. You'll get a call from them every time you unlock something new as well.
To call Merryweather, simply access your phone (up on the d-pad) and go to the Contacts section, which is in the top right corner.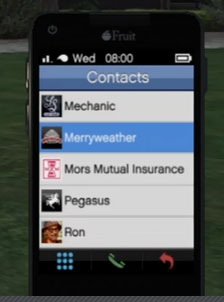 Once they answer, you'll be able to select from the things you've unlocked from them.
Here is the list of Merryweather items you'll unlock by rank:
Rank 13 – Ammo Drop
Rank 20 – Backup Helicopter
Rank 25 – Boat Pickup
Rank 30 – Helicopter Pickup
Rank 35 – Mercenaries
Rank 50 – Airstrike